Contrary to popular belief, the tourist season in Sochi lasts almost all year round. In summer – beach holidays, in winter – ski holidays, in autumn an ​​active business program begins. There is a slight calm in the spring, but nevertheless, this time is good for excursions.
Today Sochi is, on the one hand, a "new" modern city with skyscrapers, large hotels, and restaurants, on the other, an "old" town with its own unique flavor: cozy Caucasian cafes, streets with small houses.
If you are traveling to Sochi, you should not expect the service of Europe and even Turkey. But, despite this, here every tourist will find entertainment for himself: beach holidays, extreme sports, skiing and snowboarding, leisurely excursions to historical sites, and much more.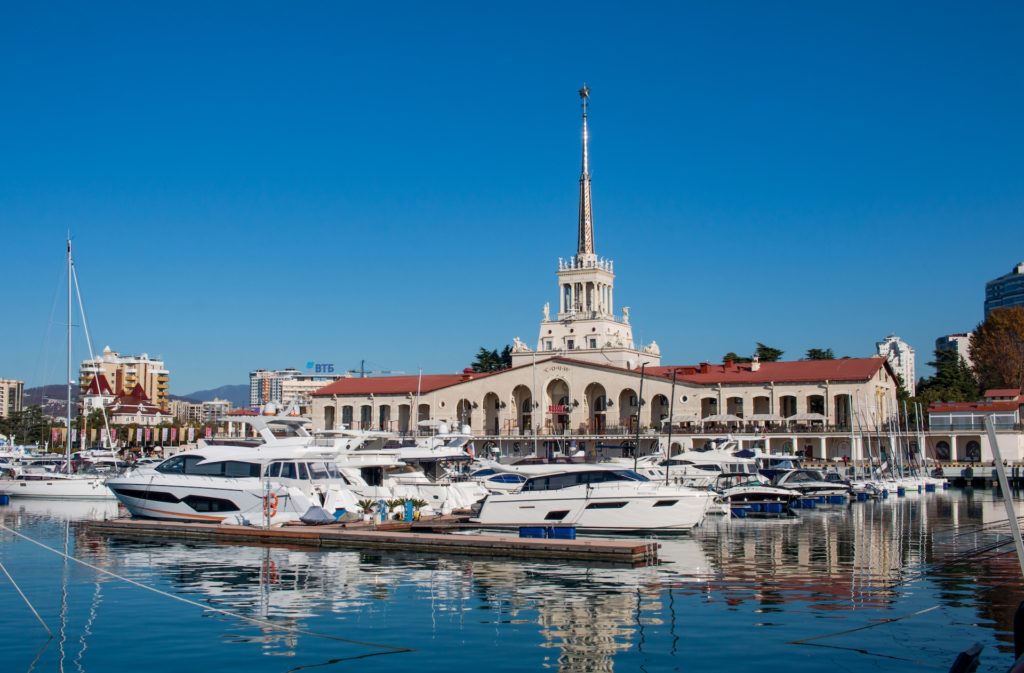 Major Sochi attractions. What to see?
There are many attractions in Sochi for every taste, but I advise, first of all, to pay attention to the objects related to the last Olympics 2014.
Top 5
You can get to Olympic Park by bus or electric train. In the park, you can order a guided sightseeing tour (1,500 rubles). We hired a golf cart to get to the Olympic Fire Cup (150 rubles). Objects that can be seen in the park: a musical fountain, the Fisht stadium, sports palaces (small and large ice arenas, a winter sports palace), the Sochi Museum, a car museum, a children's Sochi Park. If you like to have an active rest, then you can go-karting (from 400 to 2,100 rubles, depending on the car) and film your trip on camera (500 rubles). Electric car rental is available for children (200-600 rubles, depending on the ride time).
The park, familiar to everyone from childhood, offers many entertainments: an oceanarium, dolphinarium, attractions. It will be interesting for both children and adults.
In winter you can ski / snowboard or climb the ski lift to an altitude of 2500 m and enjoy the beauty of the mountain nature. In summer there is a modern beach, a rope park, ecological trails, bicycle, and bicycle rental. Horseback riding, trekking, yoga classes, and even free courses for a young highlander for children are organized.
Social and Cultural Center "Galaxy"
The center is located in Krasnaya Polyana at an altitude of 540 m above sea level. There is a water park (from 500 to 900 rubles for children and from 700 to 1,200 rubles for adults), a bowling club (from 600 to 1,200 rubles), a cinema, restaurants, and a kids club.
Mountain Olympic Village "House of Winners"
One of the key sites of the 2014 Olympic Games is 1100 m above sea level.
Travel costs
Sochi is not the cheapest vacation. Yes, but only in comparison with other Russian resorts. Moreover, prices vary greatly during the tourist season. And for residents of Moscow and St. Petersburg, prices in Sochi are unlikely to seem overstated, since they do not differ much from large cities.
If you come to Sochi to sunbathe, walk around the city and go on excursions, it is better to book a hotel in the center. Then interesting places and sights will be within walking distance for you.
A 3-star hotel in the center of Sochi in the low season (for example, November, March, April) will cost 27 euros, and a room in the same hotel in July – from 46 rubles per night. Hotels 4 and 5 stars in low season – from 43 euros, in high season – from 87 euros.
Sochi has a lot of decent hostels located in the city center. Price from 3.8 euros per night. The second most democratic accommodation option is guest houses, the price per night in which starts from 1000. You can rent an apartment in the center of Sochi for 27 euros and higher.
Offers with a low price are booked even six months in advance, therefore, if you have planned a vacation in Sochi at the peak of the tourist season, we advise you to decide on the hotel in advance.
There are a lot of cafes and restaurants in Sochi. For lunch, you can find eateries with an average bill of 3.5-4.5 euros per person. Some hotels offer a buffet for an additional fee: in a 4 and 5-star hotel, it will cost an average of 10 euro and more (depending on the level of the hotel).
Taxi prices in Sochi are not high. A trip within the center is about 2 euro, to neighboring areas – about 4 euro.