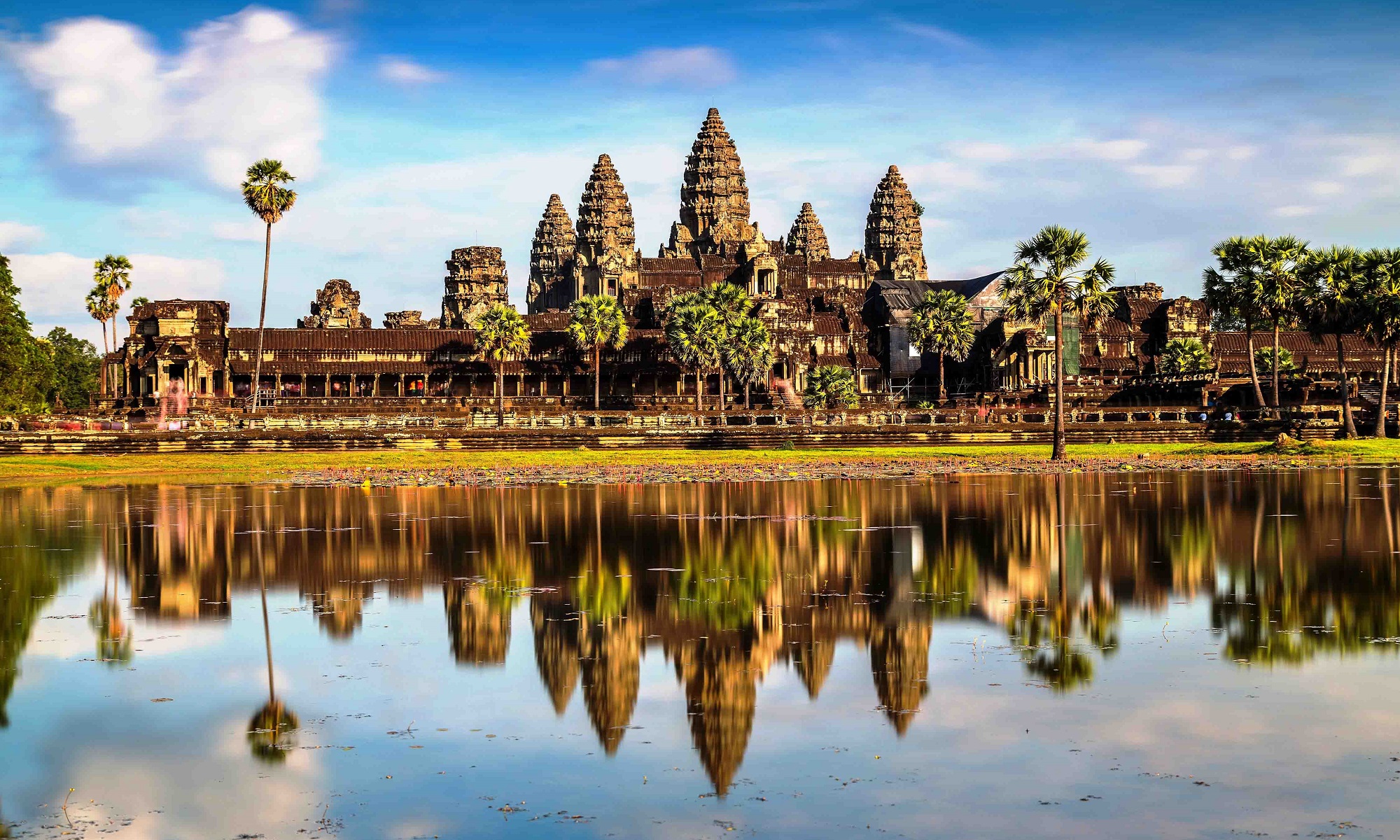 Located between Vietnam, Thailand, and Laos, Cambodia is a land where you experience great tropical adventures and exotic wildlife. There are loads of breathtaking places across the country. In this article, we will cover the most popular destinations in Cambodia for you to find the right itinerary for your trip.
Angkor Wat Temple
The temple of Angkor Wat is one of the most favorite places in Cambodia for many people. Located in the town of Siem Reap, these temples earned the status of a World Heritage Site by UNESCO in 1992. One of the most popular features of this location is the Bayon temple with over 200 stone faces looking in every direction of this landmark.
Angkor Wat was built by King Suryavarman II in the mid-12th century. Surrounded by a beautiful town with night markets, craft shops, silk farms, and rice paddies, this landmark should be included in your destination list.
Kampot Province
Over the years this place has become more popular. One of the reasons behind the rising acknowledgement of this landmark is its scenic riverside promenade decorated with plenty of colonial structures. It is also known as the land of black peppercorns. Located at the foot of the French hill station of Bokor National Park, the town serves as a gateway to one of the most beautiful national parks in Cambodia.
Banteay Srei
This landmark is an official part of the Angkor complex. However, Banteay Srei is located 25 km north-east of the main temples. Therefore, many tourists skip this location even though it is certainly worth visiting.
Built in 967 AD, this popular temple is mainly built out of red sandstone. The material was a perfect choice to create the outstanding wall carvings that you can still see today. This is the only major temple in Cambodia that wasn't built for the kings.
Phnom Penh
This might be one of the greenest capital cities in the whole world. The capital city of Cambodia – Phnom Penh, is filled with Buddhist temples and lush palaces. One of the reasons behind the liveliness of the city is its location. It is located at the conjunction of three major rivers.
With the many attractions this city has, it has become one of the most popular destinations in Cambodia. You can expect to be awed by French colonial houses, many lively cafes, roadside pagodas, and handcrafted local souvenirs.
Koh Ker
This remote archeological city was the capital of the Khmer empire for a brief period of time. From year 928 to 944 AD, many spectacular buildings were built in the rising capital of the Khmer empire.
The main landmark in this ancient city is Prasat Thom. This is a 30-meter tall temple built like a pyramid. It was left for the jungle for nearly a millennium because of its remote and inaccessible location.
Sihanoukville
This is the exact place where the last battle between Vietnam and the United States was fought. Nowadays, this popular destination is known for its sunny white-sand beaches with the pristine water surrounding the city.
There are loads of activities that you can enjoy besides enjoying the beaches. You can go kayaking, snorkeling, or windsurfing to have the most of your stay in this destination.
Preah Vihear
This is one of the most popular provinces in Cambodia. It is mostly known for its large Hindu temple complex – Prasat Preah Vihear. The landmark is located right on the edge of a cliff overlooking a lush tropical hardwood forest and beautiful country scapes.
If you choose to visit this popular destination, be sure to pay attention to the marvelous carved stone ornaments, staircases, pavements, and many more details that make this place one of the most popular destinations in Cambodia.
Tonle Sap Lake
Tonle Sap Lake is among the best freshwater bodies in Cambodia. It stretches along many astonishing floating villages. There you will witness plenty of migratory bird species, over 200 species of fish, crocodiles, and macaques. With all the wildlife and many unique towns, this landmark has a rich cultural feel to it.
Kep
This might be the most relaxing places to visit in Cambodia. The quiet beaches, friendly people, and local vendors make this place a destination you must visit. You can take a stroll on the most beautiful beaches in Cambodia and enjoy the various seafood prepared in a local manner. If you enjoy seafood, then you must try crabs at the local Crab Market.
Overview
Cambodia is one of the most diverse places you can visit. It's warm climate and rich history make it a popular destination of adventure with spectacular landscapes and wildlife. We hope that you will include some of these most popular destinations in your itinerary as Cambodia truly does offer a selection of landmarks like no other country.